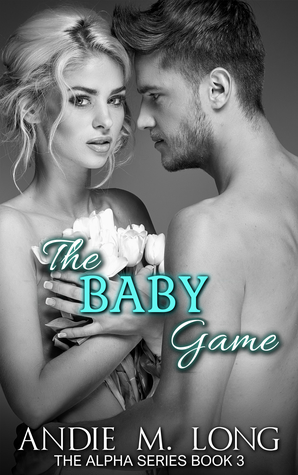 The next installment in the bestselling Alpha Series.
The Baby Game
Ronnie Taylor and husband Harry had agreed they'd wait a few years until starting a family. So when Ronnie discovers she's pregnant after being a bit too casual with her contraception, she finds herself in a dilemma. Harry is taking his mother on the trip of a lifetime at the same time as their bundle of joy is due. If she tells him, he'll cancel the trip and she doesn't want his mother to miss out.
In typical Ronnie style, she ropes in TV Researcher and friend Nina, and pretends she's filming a reality show about eating junk food. She's going to blame all her baby weight gain on burgers. Surely she can't get away with it? Or can she..?
With cravings for dog food, a mission to match-make her midwife and a never-to-be forgotten speech for a Healthy Eating charity event, it's another hilarious adventure with the loveable, crazy 'ladygardener
'I'm growing my own internal broad bean'
I loved this!
Why?? Well as a fan of the whole 'Alpha Series',for me it was an added gem that,yes to some who haven't read the previous books(and that poses the question of WHY NOT??!!) the concept of 'hiding a pregnancy' for pretty much the entire time would seem utterly crazy and impossible-However,to those of us who have already seen the antics of Veronica (Ronnie) from her side character in The Alphabet Game to her own story The Calendar Game etc,this is 'True Ronnie Style'! It is hilarious and I found myself laughing out loud all the way through,from the references to Grey's Anatomy,Food Babies,'ladygardens',glitter and Fifty Shades..also it was great to have the characters from the previous books feature,and I do hope that this will NOT be the last that we see of ALL of them (not pressure Andie!!)
RHR Rating 5*